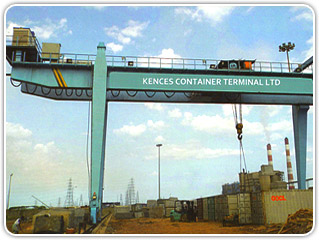 Strategically situated on the coast of Chennai, South India, KENCES CONTAINER TERMINAL LTDEstablished in 2005 as a Custom notified Container Freight Station [CFS] is spread over an area of more than 40 acres of land located to cater to the needs of Chennai & Ennore Ports.

Container Freight Stations forms an important part of the Global Logistics / Supply Chain industry. The fast-growing cargo industry makes it mandatory for CFS & ICD operators to modernize and adhere to global standards of operations. We at Kences CFS are fully equipped to meet the challenges.

Business Benefits of KENCES CFS System

Designed considering the areas of improvement & future growth potential. Short-term benefit – productivity improvement and seamless flow of data. Long-term benefit – highly scalable and robust solution.
Transportation and Logistics Business Services


Contracts and Agreements Managements


Sales and Booking Management


Freight Operations


Regulatory Compliance Management


Communication Services


Service Level Management


Logistics Asset Management


Revenue Accounting and Management
Our Experience
»
We have handled Import cargo like WIND MILL blades of Vestas RRB, imported machineries, JSW all types of steel products, steel scrap, sheer nuts, compute peripherals, cereals, Export cargo like project machineries, granite blocks, granite slabs, iron one, manganese ore, mill scales, maize, chillies, groundnuts, grated items and palletized items. Cotton bale, cotton yarn, co co fobre, co co pith refer containers – 16 points, G.P box, high cube containers, open top containers, ODC Containers.
» Bonded LCL.
For Marine Container Terminals, KENCES offers a variety of solutions to improve:

Gate operations

Crane/vessel operations

On-dock rail operations


Yard Inventory

Security and Safety